Health insurance is confusing.
That's why, when it comes to benefits, most business owners go to a broker for help. Brokers help companies navigate the complex world of group health plans, 401(k), the Affordable Care Act (ACA), COBRA, and more. In fact, many small to medium-sized businesses consider their broker one of their most valued consultants, leaning on them for support not only during open enrollment but also throughout the entire year.
But what happens when these same business owners need help with payroll administration, HR, and workers' compensation or risk management? Who helps with that? A PEO, that's who.
You're thinking "Great! Problem solved! That sounds easy enough." Well, not always.
Too often overwhelmed business owners are elated to discover PEOs only to then realize that they will have to sever their relationship with their trusted insurance broker. Fortunately, if you find a broker-friendly PEO then this doesn't have to be the case.
In this piece, we explore the unique roles of brokers and PEOs and examine how the two can work together to help you get the best benefits packages, payroll services, tax management, HR, compliance support, and technology for your growing business. Ready to get started now? Reach out and let's set up a time to chat or visit our detailed guide "What is a PEO?" here.
What Does an Insurance Broker Do?
Insurance brokers are licensed professionals that help their clients find the right products and coverage for their particular needs. A good broker works with you to understand your background and goals, and typically helps with things like:
Identifying your risks, and coverage(s) needed to help you build out a well-rounded employee benefits package that attracts top talent.
Shopping the market on your behalf to obtain quotes from various carriers in order to compare prices, plans and coverage and then explain the options to you.
Assist you with getting claims, billing, enrollment, and customer service issues resolved.
Staying up-to-date on the ACA and various insurance regulations and providing ongoing guidance and best practices.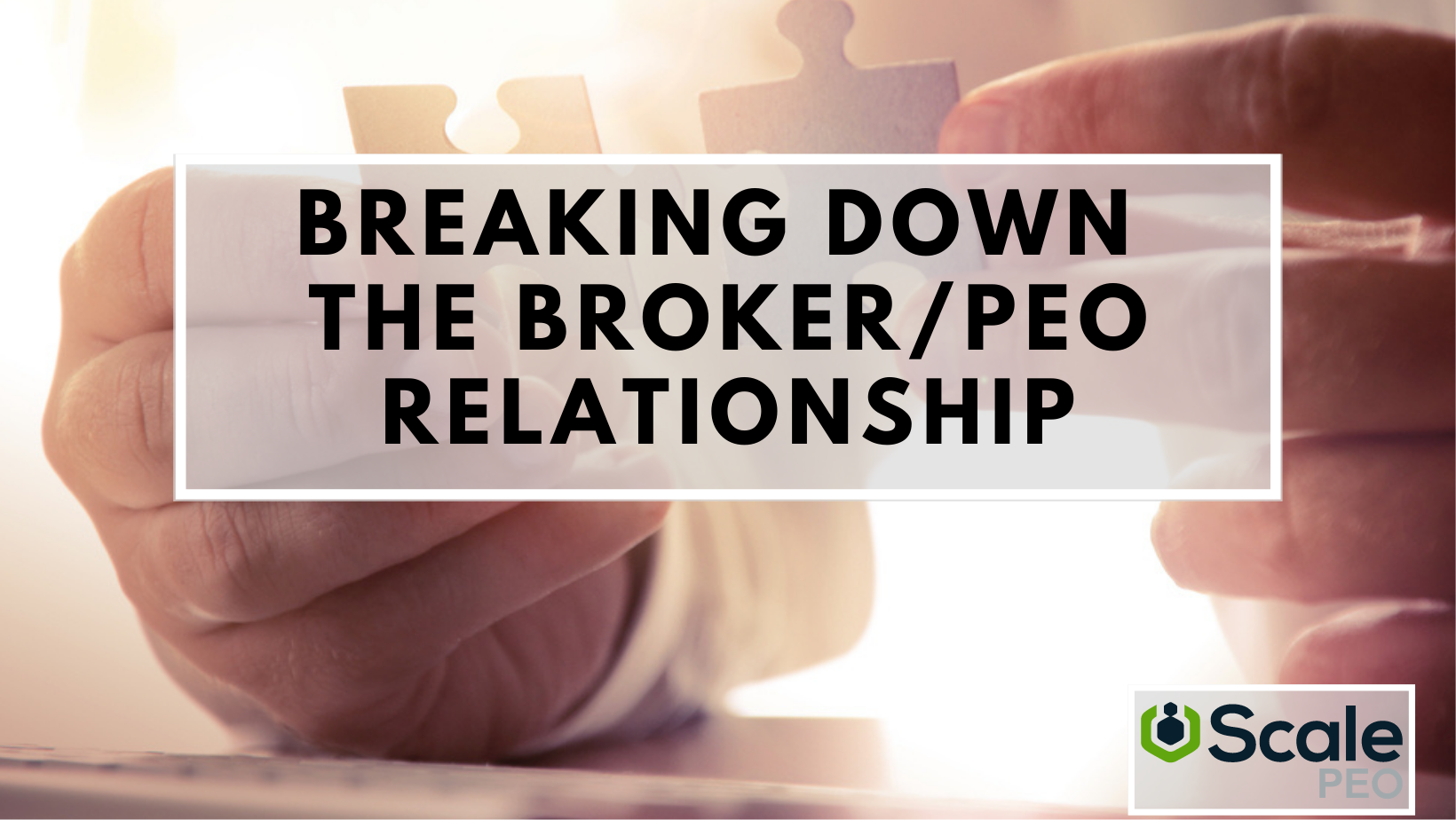 What Does a PEO Do?
A Professional Employer Organization (PEO) partners with small and medium-sized employers to provide comprehensive outsourcing and help them manage the day-to-day tasks of running a business.
The PEO and the employer enter into a Client Service Agreement or "CSA" which outlines the relationship between the business, the employees, and the PEO. Then by leveraging the collective purchasing power of a PEO model, businesses gain access to high caliber benefits at prices that are typically only available to large companies. In addition, the PEO administers payroll and HR, provides tax management, HRIS tools and technology, assists with compliance, and streamlines processes while leaving the ultimate direction and control of the company in the employer's hands.
Brokers and PEOs: A Complicated History
Despite the fact that PEOs and brokers can work together to provide a truly comprehensive solution for businesses, the relationship between the two entities has traditionally been tense. PEOs directly market to clients, offering them benefits and workers' comp options, amongst other things. Brokers feel threatened by the PEOs who are approaching their clients and prospects with robust packages, threatening to take away their business.
ScalePEO is a Broker Friendly Solution
ScalePEO was actually founded by brokers. Because of this firsthand experience we truly understand the unique value a broker brings to the situation-- important insights, solid relationships, meaningful history-- these are all key pieces of the puzzle. This is why we NEVER cut our clients' brokers out of the equation. Following are just some of the ways that we work with brokers:
Your broker can remain the Broker of Record
Scale clients work with their broker to select the best benefits package
Brokers are invited to Client Kickoff Call with the Scale Implementation Team
Brokers can easily access and obtain information and up-to-date censuses through the online portal
The Scale Client Care Team provides broker friendly support
Being a business owner is hard, period….
Payroll, accounting, HR, benefits and so much more make it hard to stay focused. If your current broker relationship is one thing that helps you stay focused, but you are still looking for PEO options, then ScalePEO is for you.
Remember, most PEO providers make you sever your relationship with your broker, leaving you high and dry. But not with ScalePEO. We let you unlock the power and resources of a PEO without having to say goodbye to your current broker.
Ready to find out what else may be overlooked in regard to your payroll, HR, benefits, and compliance? Then schedule a chat with us today.