With so much on their plate, it is not uncommon for business leaders to become so bogged down with the day-to-day tasks of running their company that they no longer have time to focus on growing their company. When this happens, it can be a sign that the time has come for them to outsource to a professional employer organization, or a "PEO."
To help business owners avoid wasting costly time experiencing these symptoms, we wanted to help shine a light on these problem areas before they become an issue. To that end, we put together the following list of seven signs that your organization may not be growing as effectively as it can because your team members have less time to focus on their core competencies.
While you read the following seven signs if you find yourself nodding along in agreement, then it may be a good time to look at your PEO options. Ready to get started now? Reach out and let's set up a time to chat!
You are drowning in paperwork.
Let's face it, most business owners don't love administrative paperwork. It is time consuming, tedious, and it takes away from revenue-generating activities. But the reality is that while things like record-keeping, payroll, and benefits management are a huge time suck they are also extremely important. By enlisting a PEO you can get back the time spent on repetitive administrative tasks and use it to focus on growing your business.
Payroll stresses you out big time.
Not only is payroll super time-consuming, but it also has an enormous impact on your team's morale, and their relationship with your company. That's why when it comes to payroll, you simply cannot afford to be late or make a mistake. You may find yourself worrying about whether your local, state and federal calculations, remittances and filings are correct. Or you may be wondering if there are discrepancies with your stand-alone timekeeping system. A PEO can help give you peace of mind with timely processing, direct deposit, proper file maintenance, reporting, tax filings, and more.
You can't remember the last time you spent a whole day doing the things you had planned on doing.
It's hard to focus on your company's core competencies when you are constantly getting distracted by, and reacting to, the HR related issues that come up. A good PEO can help with everything from onboarding and employee training to HR consultations and recommendations, and more. When you let a PEO help with the day-to-day back office tasks you gain the capacity to do more in all aspects of your professional, and personal, life. And with this capacity you can shift from merely existing in a reactive state, to proactively charting the course you envision for yourself and your team.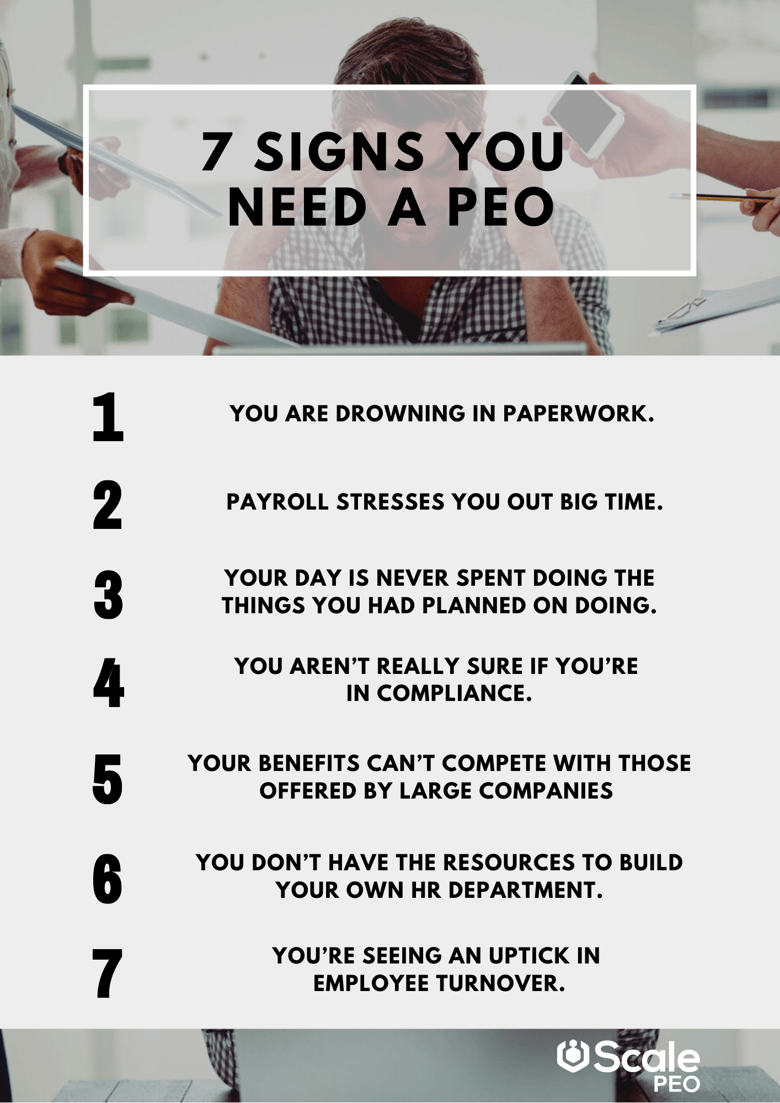 You aren't really sure if you're in compliance.
There are more regulations than you can count, and you aren't entirely sure your company is doing everything it should be doing to protect itself from litigation. By using a PEO you can gain access to a team of professional advisors and experts who stay current on the most up-to-date state and federal employment laws. Whether you need assistance with ACA compliance, tax management, ERISA, HIPAA or more, a PEO can quickly provide you with accurate information, and guidance you can trust.
You're afraid your benefits can't compete with those offered by large companies.
How are you supposed to attract and retain the best and brightest employees when you can't afford to offer the same type of benefits package that a large company can? With the increased buying power of a PEO, that's how. By leveraging the group purchasing power of a PEO, you can gain a competitive advantage by offering the same high caliber benefits, retirement plans, HRIS tools and technology, and company culture as that of a Fortune 100 company.
You don't have the resources to build your own HR department.
One day you hope to do all your HR in-house, but you just don't have the financial means to make that happen yet. In the meantime, a PEO can support the HR employee(s) you do have with better more streamlined admin tools and support. Lean on the PEO for things like law alerts, employee handbook edits, company policy updates and more, and let your current HR team focus on bigger, and more strategic HR initiatives.
You're seeing an uptick in employee turnover.
When employees aren't supported and managed well they leave. Enlisting a PEO not only provides them with access to high quality benefits but it also increases employee engagement with HR best practices, and fosters better communication via streamlined, user-friendly technology. In fact, according to NAPEO small businesses that use a PEO have 10 to 14% lower employee turnover rates.
Well that was quite the list, wasn't it?
After years of supporting growing businesses, we have heard employers list all of these stressors time and time again. As they say, the first step to solving a problem is to recognize that one exists in the first place. So, if this list resonates with you too, then the good news is you have already fought half the battle. And the even better news is we know how to help you in the next phase: solving your problem.
If you identify with the list above then it may be time to outsource to a PEO like Scale. As your trusted PEO partner, we can provide you with a comprehensive solution for benefits, payroll, HR and risk management, and give you confident peace of mind with our expert support, all while helping you establish a solid foundation that you can grow on, year after year.
Are you ready for that next step? For more information on how Scale can help you run and grow your business contact a member of our team.
Editor's Note: This post was originally published October 4th, 2018 and has been completely revamped and updated for accuracy and comprehensiveness.