Running a business is risky. Despite your best intentions things happen and mistakes are made. Unfortunately, sometimes these mistakes can get you sued. While it is impossible to make running a business risk-free, there are steps you can take to reduce the likelihood that you will find yourself facing a lawsuit.
Following are some of the top reasons why business owners get sued:
Asking For Help Too Late
Rather than having help from the get go they wait until a problem has already arisen. While it can seem like an unnecessary expense when you're trying to grow your company and you have a lean budget it is important to keep the bigger picture in mind. A single lawsuit could totally wipeout your business and all that you've worked for. According to a report from the Small Business Association (SBA) legal costs from litigation can range from $3,000- $150,000. Having a HR, payroll and compliance expert on your side early on is one of the best ways to help prevent problems before they start.
Discriminatory Hiring Procedures
When it to comes to interviewing it can be a tough task to ask the right kinds of questions that don't get you into hot water. Questions should be job related and not include inquiries of any type of protected class (age, disabilities, military experience, etc.). But without a script, or a lot of practice, it is easy to slip into dangerous territory. Something as simple as asking when someone graduated from college can be problematic. Having an expert HR advisor can help companies learn best practices and avoid costly mistakes.
Neglecting Regulatory Compliance
There are lots of reasons why a company might not be compliant. Perhaps they have grown so quickly that they forgot to check up on all the new state and federal laws that apply now that they have a larger staff. Or maybe they hired a remote employee from another state and they aren't familiar with the new state's labor laws. But more frequently it's simply that there is no one on staff that has the time to research and stay current on the ever-changing employment laws. Compliance is complex, it requires a lot of attention, and it's best left to experts who are fully versed on the matter.
Misclassifying Employees
A lot of confusion exists around employee classification, particularly the "white collar" exemptions. Often employers think that a job title alone is reason enough to decide whether an employee is salary and exempt, or hourly and non-exempt. In reality, there are very specific rules set forth in the Fair Labor Standards Act (FLSA) which determine whether employees are exempt or non-exempt. For more insight into exemption rules download our Exempt vs. Non-Exempt Employee Classifications Guide.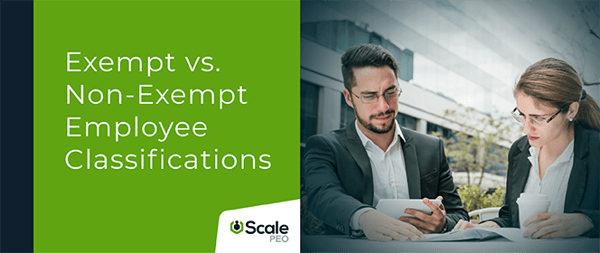 Problematic Employee Handbooks
Not only are employee handbooks a powerful tool to communicate your organization's policies, practices, values, culture, and vision but they can also form the first line of defense in an employment lawsuit or investigation. Unfortunately, many small businesses neglect to review and update their handbooks, or worse yet, they don't have one at all! All businesses should have employee handbooks which they review and update annually, and of course the policies listed in them must be followed.
Now that you know some of the danger areas that get business owners into trouble you can prepare accordingly. Protect your business, get a ScalePEO quote and learn more about how we can help support your workforce related needs.