Businesses of all sizes are continually looking for easier ways to run and grow. However, for startups and organizations with small to medium-sized teams it is especially important to maximize their teams' productivity and direct their focus to their core competencies. Some of the most common services that small and medium-sized employers look to outsource include:payroll, HR, and benefits administration. In researching their options employers inevitably come across the following two possible solutions: Professional Employer Organizations (PEOs), and HR software/online platforms.
So what are these things anyway? Well, first off, both PEOs and HR software can be used to enhance efficiency and cut costs. They can also prove especially helpful to small and mid-sized businesses with employees spread out across the U.S., as well as for fast growing companies. But there are some key differences between the two. Here we break the differences down and explain the unique value each model has to offer.
↠ Read our detailed guide "What is a PEO" here.
While both options can be valuable resources to employers, there are notable differences between a PEO and an online HR platform, also known as a Human Resource Information System (HRIS).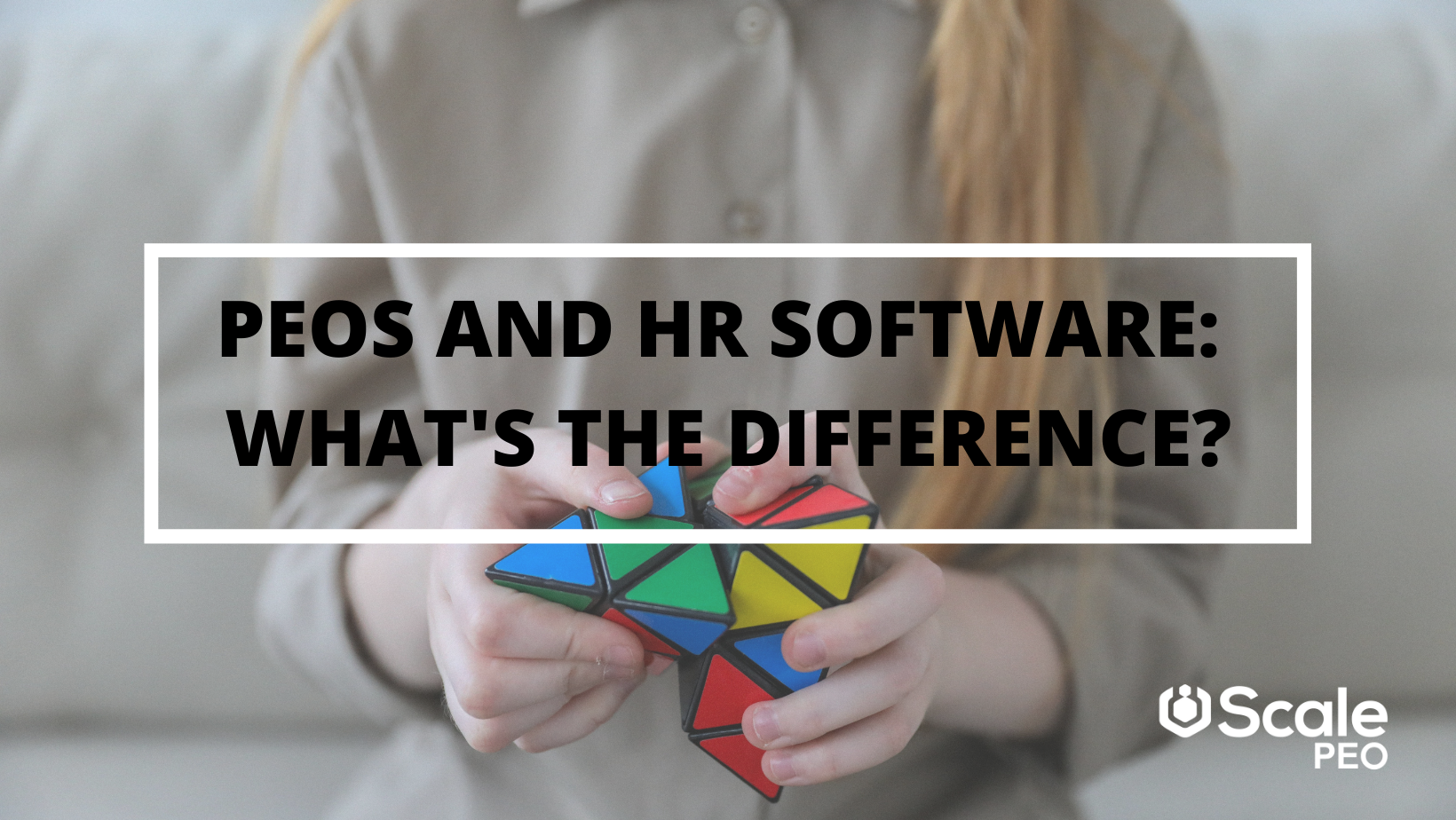 Human Resources Information System (HRIS)
An HRIS is an online platform or software that helps streamline HR administration giving the business owner, or internal HR team, a set of tools and a platform by which to manage their HR functions.
An HRIS can help organize and manage HR tasks such as: applicant tracking, hiring, onboarding/offboarding, benefits enrollment, and time management. It is important to note that while an HRIS can help with benefits enrollment and management, it cannot provide access to benefit plans.
Professional Employer Organization (PEO)
A PEO partners with employers to provide comprehensive outsourcing which helps small to medium sized businesses manage the day-to-day tasks of running a business.
While PEOs typically offer an online platform, or HRIS, as part of their package, their services extend beyond the technology to also include things like:
Payroll processing and tax filings
HR administration, support and training
Benefit plan sponsorship and administration
compliance and risk management
Essentially, the PEO acts as a single, comprehensive solution, versus having to outsource payroll, HR, benefits administration, and workers' comp to several different vendors and platforms.
PEOs and HRIS both offer tools to help you administer benefits, HR, payroll and more. The main difference is that HRIS is just that-- a tool in the form of an online software-- whereas, a PEO is a more holistic solution. With a PEO, you not only get the technology of an HRIS but you also get the support of a team of live experts that guide you along the way as you develop processes and strategies that are the best fit for your specific business.
Don't let the day-to-day details of running a business slow down your company's growth potential. Instead partner with a trusted advisor with years of experience, and get back to work. Contact us today to learn more.