As a savvy business owner, you have likely heard about PEOs (Professional Employer Organizations) and their ability to help your company grow in many different ways.
From HR to benefits, payroll, risk management, workers' compensation and more, PEO's bolster a team's ability to focus on the company and customers, rather than the backend processes that keep the machine running.
But you have heard this all before. To help you get beyond the basic understanding and to help you really understand a PEO, and answer the question "Do I need a PEO?" we put together the following list of pros and cons.
↠ Learn how a PEO can help you reach your business goals and streamline your repetitive tasks with our guide "What is a PEO."
Pros:
Consolidate and automate all your repetitive, non-revenue adding, employee-related tasks and paperwork.
Grow your company faster. According to NAPEO, businesses that use PEOs grow seven to nine percent faster than those that don't.
Lessen your administrative costs. Per NAPEO, the administrative cost for businesses that use a PEO is around $450 less per employee when compared to companies that don't use PEOs.
Build a rich benefits package at affordable rates. The collective purchasing power of a PEO enables small business to offer comprehensive, big company style benefit packages.
Reduce the workload for your current HR employee(s) and/or managers so they can focus on bigger initiatives like employee retention and development, and company culture.
Expert support from certified professionals includes things like HR and compliance recommendations, up-to-the-minute law alerts, HR trainings, employee handbook tools, and more that help shield your business from litigation.
Better budgeting and forecasting with payroll management reports and all-in-one HRIS.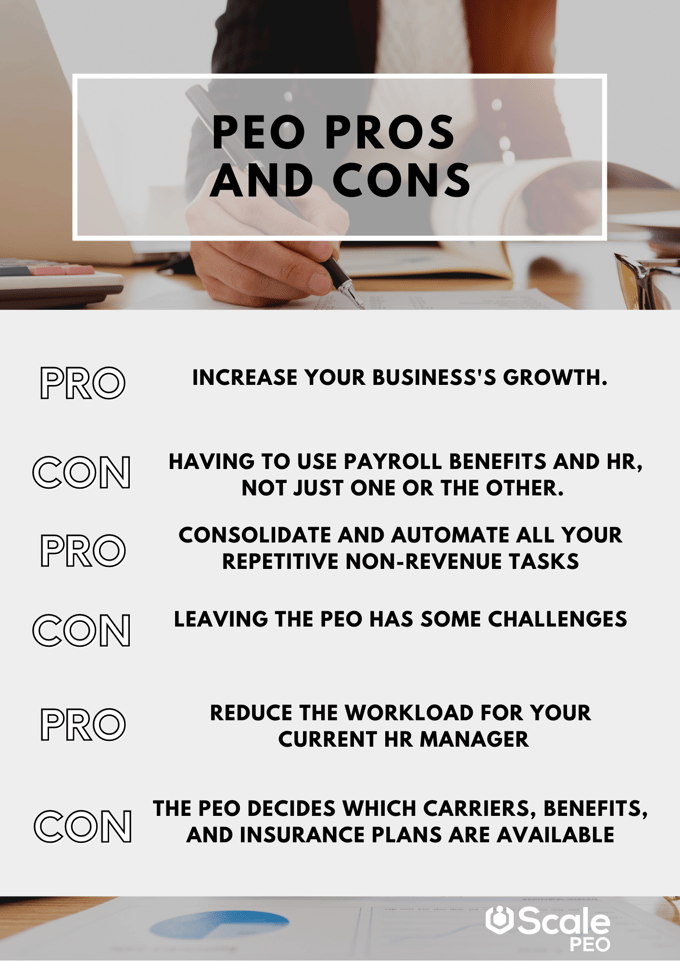 Cons:
Since the PEO is the employer of record the name on employees' paychecks and benefit documents is the PEO's, and not the client company's.
You cannot pick which solutions to sign up for-- a PEO is a comprehensive solution. For example, you can't elect to sign up for the benefits and HR but skip the payroll.
Leaving a PEO can be a challenge as you have to replace services that were previously bundled under one PEO and replace them all with various vendors and platforms.
The PEO decides which carriers, benefits, and insurance plans are available under the PEO.
In summary, if the only goal of an organization is to streamline its HR administration then an HRIS is likely sufficient. However, if the goal is to lessen the burden of HR and also increase the company's buying power, offer a competitive benefits package, reduce liability, gain HR expertise and payroll support, and reduce redundant back-office tasks, then a PEO is likely a better fit.
Ready to take the next step and free yourself from those burdens? Reach out today, and lets get started!