I recently had a conversation with a business owner who mentioned he had talked with a friend of theirs who uses a PEO. Their friend was seeing some really great results because of it which got the business owner wondering if they might be a good fit for a PEO as well. Naturally, this led him to doing some research online.
What did he find? Well, while there was a lot of info on how to get a quote from a PEO, there wasn't as much info available on how a PEO actually works... so, we decided to fix that issue.
To help you understand exactly how a PEO works we break it down bit-by-bit below. We hope that by learning the ins and outs of how a PEO works, that you can be better equipped to decide which solution works best for you the next time you talk to your benefits broker or to a PEO provider.
Essentially, a PEO (Professional Employer Organization) partners with employers to provide comprehensive outsourcing which helps them manage the day-to-day tasks of running a business. We delve into this topic further below but for more detailed information on how PEOs work and more visit our guide "What is a PEO?"
CSA Overview
The PEO and the employer enter into a Client Service Agreement, or "CSA," which outlines the relationship and delineates the responsibilities between the business, the business's employees (also known as worksite employees), and the PEO.
Under this agreement the PEO becomes the employer of record, and typically takes on responsibilities like:
processing payroll and withholding and paying payroll taxes
HR administration, consulting, and training
employee benefit plan sponsorship and administration
regulatory compliance support
risk management
Meanwhile, the client company continues to manage the day-to-day operations and activities of the business, the employees, and maintains control of business decisions.
"Under this agreement the PEO becomes the employer of record, and typically takes on employer responsibilities such as: processing payroll and associated taxes, HR support and guidance, employee benefits, regulatory paperwork and compliance support, and risk management."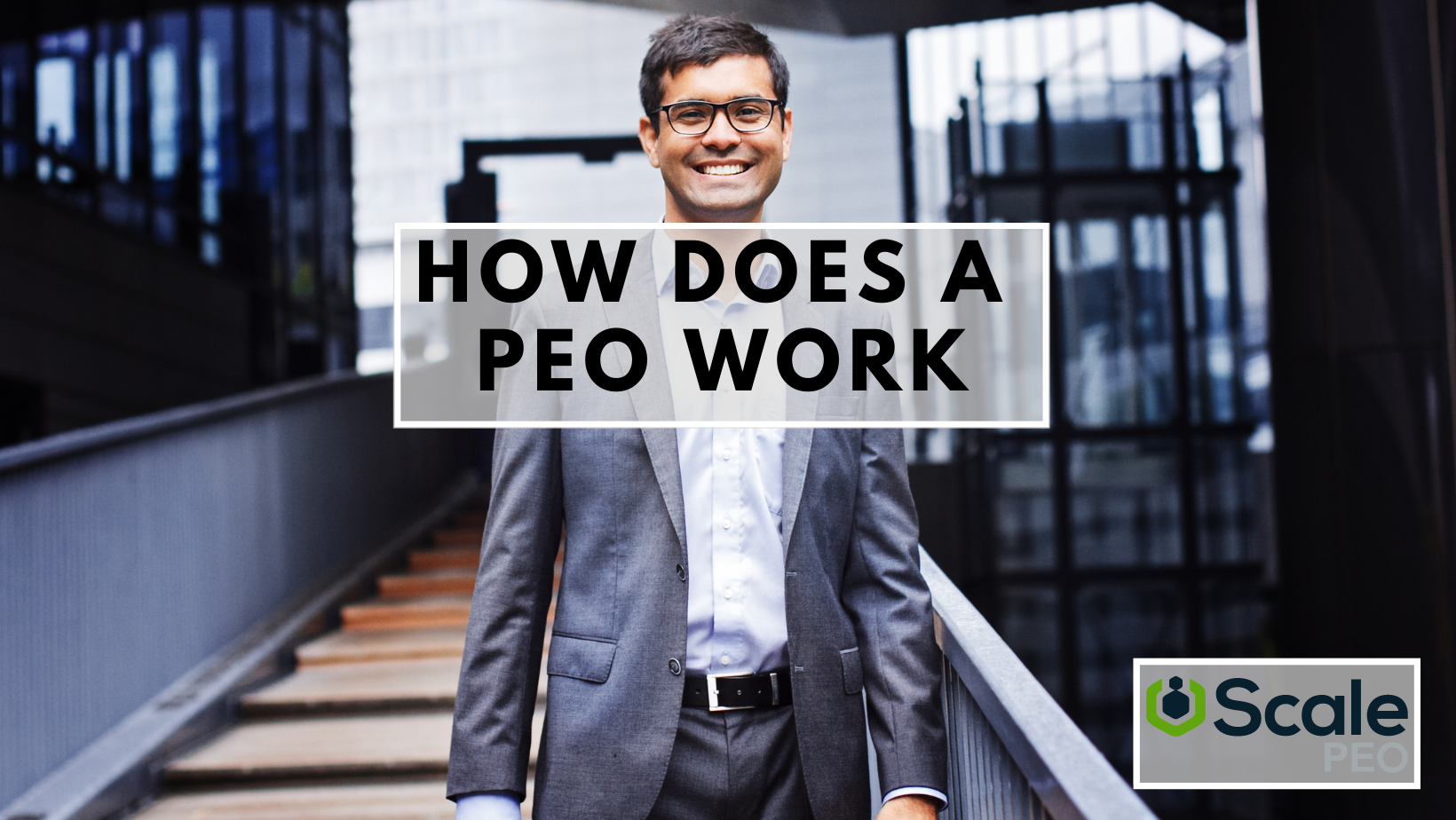 Getting Started
To discover if ScalePEO's solutions are right for you, we recommend you do the following:
Visit our website to read and learn more about the ScalePEO offerings.
Schedule a chat with one of our specialists where we can learn more about your business needs and walk you through the ScalePEO features.
If we agree that we could be a good match we will follow up with your customized quote.
Next, you will work with your broker (if applicable), or the Scale team to select benefits and sign and return the proposal. Remember, ScalePEO is a broker friendly PEO!
Then we have a Client Kickoff Call and you are assigned a dedicated Implementation Specialist to help you the whole way through.
Working with a PEO
Owning and running a business can be a rollercoaster ride. We understand this, which is why we are built to support you through a wide range of experiences. Below are a few common business scenarios and how we help:
You are hiring like crazy, and need support. ScalePEO can help with applicant tracking, interview best practices and guidance, and new employee orientation and onboarding.
An employee moves out of state and you decide to let them stay on in a remote capacity. ScalePEO can get you up-to-speed on the employment and HR laws for the new state to help ensure that you, and your employee, don't miss a beat.
Your HR Manager is so busy with paperwork that they don't have time to focus on bigger initiatives like company culture and retention. ScalePEO's easy to use digital content suite provides instant access to templates and tools so they can easily and quickly create custom employee handbooks, forms, job descriptions, and more.
Payroll is a giant headache. ScalePEO is an expert in the payroll and tax game and files your payroll taxes, W2s and 1099s for you. Our time and labor is integrated with payroll which means data flows seamlessly between payroll, benefits, and HR. We help eliminate manual processing and data entry and save your staff valuable time.

You need workers' comp coverage but the upfront costs are so expensive! With ScalePEO's "pay as you go" program your premium is based on your actual payroll-- not on projected annual payroll. Because your payments are based on real-time payroll wages there is no audit at the end of the policy. In addition, spreading your workers comp insurance costs out throughout the year, versus a large upfront payment, allows you to better manage your costs.
Broker/PEO Relationship
When it comes to working with brokers, not all PEOs are created equal. Some PEOs work directly with the client, essentially cutting the broker out of the process. However, with ScalePEO not only can you keep your trusted broker but we welcome them into the process and even allow them to stay your broker of record. Essentially, your broker can continue to serve you, but with the added "horsepower" of our extended network and organization.
ScalePEO is a broker friendly PEO
Your broker keeps their place amongst your trusted advisers and stays on as your "Broker of Record"
Your broker is involved in every step-- from proposal to kickoff call and beyond, we offer you both our support
How Employees Benefit From a PEO
By now we hope you understand how a business benefits from a PEO arrangement, so next let's look at some of the ways ScalePEO benefits employees.
The collective buying power of the PEO model allows employees of small-to-medium sized businesses to gain access to benefits they may not otherwise have, such as: retirement 401(k) plans, Health, Dental, Life, Dependent Care, Employee Assistance Program (EAP), telemedicine, commuter benefits, and more.
Productivity increases and turnover decreases because employees gain professional HR resources, comprehensive benefit packages, better trainings, and improved communication.
Top of the line HRIS technology gives employees direct access to the info they need, when they need it. Online onboarding, benefits plan comparison and enrollment, mobile timekeeping, and electronic PTO requests are just some of the employee self-service features offered.
Launch to the Next Level with ScalePEO
We hope by now that you have a better understanding of how a PEO works. If you're ready to get the support and benefits your team deserves, at a price that makes sense (and dollars) to your organization, then request a quote today.