It's an amazing feeling, finding a new growth-partner to help you take your company to the next level. Then as you start working with the partner, you realize the person you were initially talking to was actually not the same person you work with from the day-to-day, and it is actually impossible to get a real HUMAN on the phone to solve an issue.
This is not the case with ScalePEO. First of all, moving things like payroll, and health benefits is serious business, not only for the employer, but also for the employees and their families. Secondly, we understand that a good and thorough implementation is critical to long-term success. This is why we have developed a well defined process by which to onboard all new clients.
At the start of every new partnership, each ScalePEO client is assigned a Dedicated Implementation Specialist. This specialist takes them through the initial sales process and helps get them set up in the system. Examples of implementation and onboarding support, and quality control checks that take place during this time include:
Client works with their broker and/or the Scale team to select the best-fit benefits package and sign the proposal

A Kickoff Call is completed with the Client and the Scale Implementation Team

Recurring meetings are scheduled with the dedicated Scale representative

Live system and technology training is completed

Implementation Experience Survey is distributed to client for completion
"We did back-to-back conversions and converting to Scale was a much smoother process than the first. The support was phenomenal, and the accuracy was on point. I like that I can get them on the phone immediately if I so choose." -- ScalePEO Client
Once implementation is complete our clients stay in touch with their Implementation and Onboarding Specialist. Yep, you read that right-- they don't disappear, never to be seen or heard from again. They remain as accessible as before.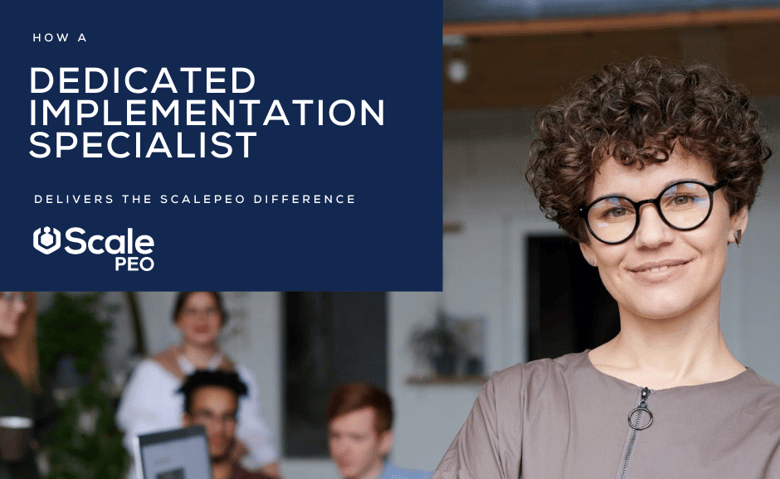 Now sometimes, clients have a quick question that doesn't require intimate knowledge of their group, for example, how to run a report or use a dashboard. For general questions, all Scale clients also have access to the Client Care Team. This team works as an additional resource for questions, system support, and more.
We truly believe that the thoroughness of the implementation process directly affects the overall success of the Scale-Client relationship. Clear communication, thorough training, easy access to resources, and client feedback are the keystones of our, and ultimately, our clients,' success.
You've learned what to expect as a new ScalePEO client. Now are you curious about how ScalePEO helps clients support their newly hired employees? Get more information in our free Onboarding brochure.