We love a good picnic—really, who doesn't? But if you're looking to find something a little different to do for your employees this summer, then check out our list of less common activities below.
Visit an Amusement Park
These aren't just for kids! Rent a van or party bus and have a blast taking in the sights, going on rides, playing games and eating junk food. Some parks offer discounted rates for non-profits and/or large groups and often can arrange private groups tours or catered meals.
Give Back to the Community
Use a site like VolunteerMatch to look for charitable events in your town that your team can volunteer at. In addition to doing something good, it's a new and different way for coworkers to engage with one another. It also provides the organization with an opportunity to meet members of the community. After the event is over head to a nice restaurant to chat about how the event went and relax after your hard work.
Attend a Summer Concert
Summer is a popular time for a wide array of festivals and concerts for every taste and budget. So, whether you see a free concert in the park or attend a large festival with a VIP pass, these events can be a fun way to spend time together, listen to good music, and eat tasty treats.
See a Baseball Game
Is summer really complete without a dose of America's favorite pastime? Whether you attend a major league or a minor league game, you're in for a good time. Depending on your budget and group size you may want to spring for a suite to really make the experience memorable. Be sure to check with your local stadium to see what their group options are.
Get a Vacation Rental
If you live near a beach or lake then lo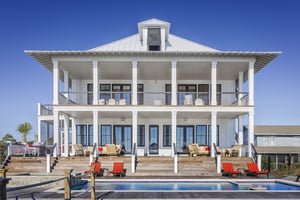 ok into renting a luxury home. Depending on your proximity to the site and the size of your group, you can stay overnight or just rent it for the day. As for what to do while you're there you can cater a dinner, play lawn games, and enjoy a more lowkey event in a beautiful spot. If you need help finding a luxury rental check out LuxuryRetreats.
Regardless of what you choose, one key point to remember is that if you are providing alcohol at your event that it can be a liability. The ScalePEO HR Pros provided the following ways that you can protect both yourself and your employees.
Employers may be liable for employee misconduct and negligence when the employee is acting "in the course and scope of employment," so make these kinds of events optional and clearly communicate that attendance is neither expected nor required.
Don't plan to have any work-related activities at the event.
Set expectations around respectful behavior and encourage employees to drink responsibly.
Remind employees that company policies, including harassment and other conduct policies, apply at the event.
Have a plan to ensure that no minors or visibly intoxicated attendees are served alcohol.
If possible, hire professional servers (or hold the event at a staffed facility) who will, as part of their job, politely refuse to serve anyone who they perceive has had enough to drink.
Provide ample food and non-alcoholic beverages, both for safety reasons and so non-drinkers know you've given them consideration.
Provide employees with a set number of drink tickets so that each attendee is limited in the number of alcoholic drinks they will be served.
Plan for how employees who have been drinking will get home. This may involve providing taxis or public transit options at no cost to the employees, arranging for group transportation, or encouraging employees to designate a driver at the beginning of the event. Someone from management can be designated to stay until the end and maintain their own sobriety to ensure that everyone gets home safe.
While these steps will not eliminate all the risks, they can help reduce liability so your employees can celebrate summer safely and responsibly.