With each new year, brand new employment regulations go into effect and changes to existing laws happen that you need to be aware of. The following guide will help you understand the newest wage changes, as well as important points on sexual harassment and discrimination training-- so let's get started!
WHAT YOU WILL LEARN:
What changed with wages - an overview
Updates to sexual harassment and discrimination training
How we can help!
Chances are your day is full enough dealing with customers, products, and managing your team. And while wage updates and legal changes are extremely important, the reality is they might not be super high on your priority list. With that in mind, we at ScalePEO have compiled this helpful list of State and Local Minimum Wages. This guide can help you confirm you are in compliance with local regulations.
Ready to chat?↠ Request a free ScalePEO consultation today.
Many states, regions, and localities have different minimum wage laws, and you have to stay ahead of this information as hiring continues. Review page 11 for more information on this.
Keep in mind that this chart reflects the current state and local minimum wages in effect as of January 1, 2022, as well as future enacted increases. Review the coverage requirements applicable to states or localities where you conduct business to determine which minimum wage rates apply to your employees. If there is no information listed in the state's Coverage box, then the state minimum wage law generally applies to all employers. If a state does not have a minimum wage law, then employers must comply with the FLSA. Finally, if there is no information in the chart's Premium Pay box, then compliance with the FLSA is also required.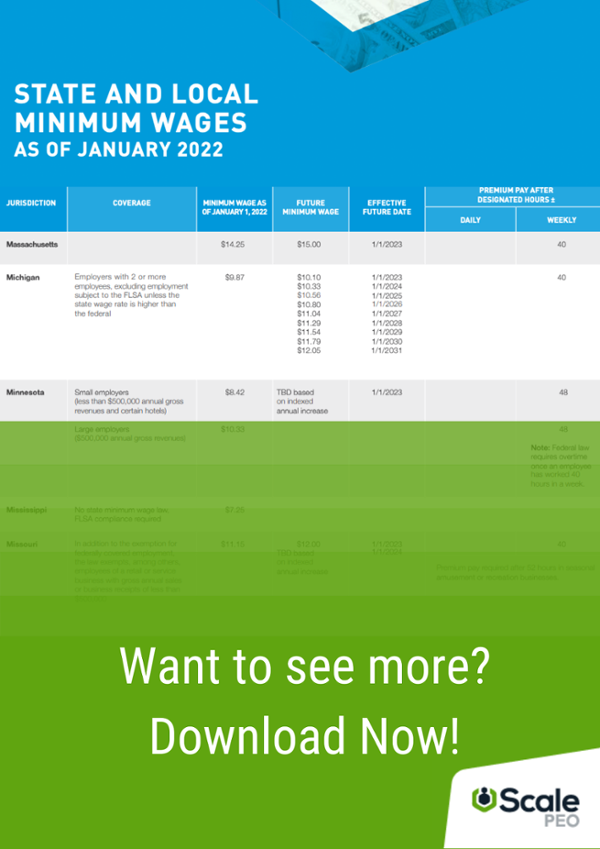 In addition to wage changes, you need to ensure you stay compliant with your sexual harassment and discrimination training. We can provide access to state specific trainings; for example: "Under California law, if you have 5 or more employees, you are required to provide all employees with sexual harassment prevention training every two years."
Training must address several legal requirements, including the definition of sexual harassment with examples, remedies for victims of harassment, methods to prevent sexual harassment, and managers' reporting obligations, among others.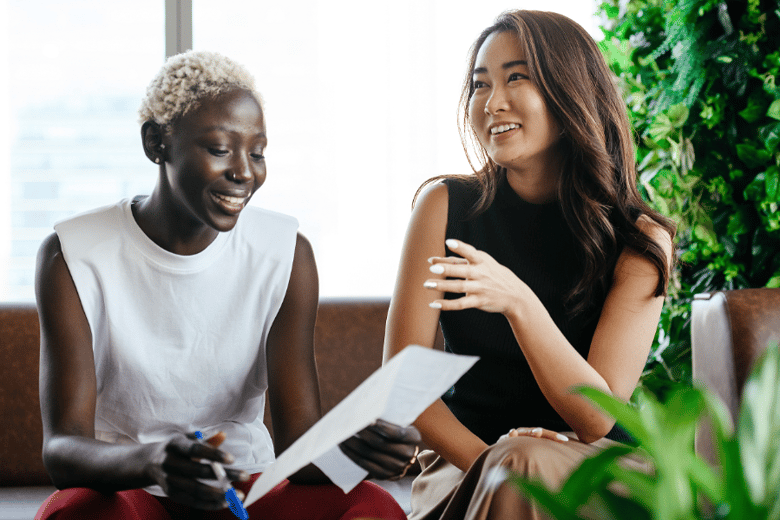 But what about legal updates and HR changes that occur midyear? We can help with that, too! ScalePEO offers legal updates and HR alerts so you can get urgent notices when laws change, along with recommended action items with suggestions to update your employee handbook, review and update your workplace policies, display updated workplace postings, and more.
The day-to-day challenges of running a business are hard enough-- don't let changes to employment laws slow you down. Review our guide and download it now for peace of mind in 2022. Looking for information on how our services can help you even more?
Set up some time to chat, or review our FAQ guide here. Either way, thank you and good luck as you continue to grow your business in the new year!